Is Costa Rica on your list of the next countries to visit? Here are the most beautiful places for hiking in Costa Rica! With its still active volcanoes, thousands of hectares of tropical forests and endless beaches, Costa Rica is a true wild paradise for hikers. It must be said that the country is home to 6% of the world's biodiversity! Hiking in Costa Rica means immersing yourself in lush and unspoiled nature, but also setting out to meet extraordinary wildlife. Planning to explore the land of lasting happiness in the near future? Do you like to tread in the middle of nature? We bring you our selection of the 9 most beautiful hikes in Costa Rica.
Rincón de la Vieja Park – Catarata La Cangreja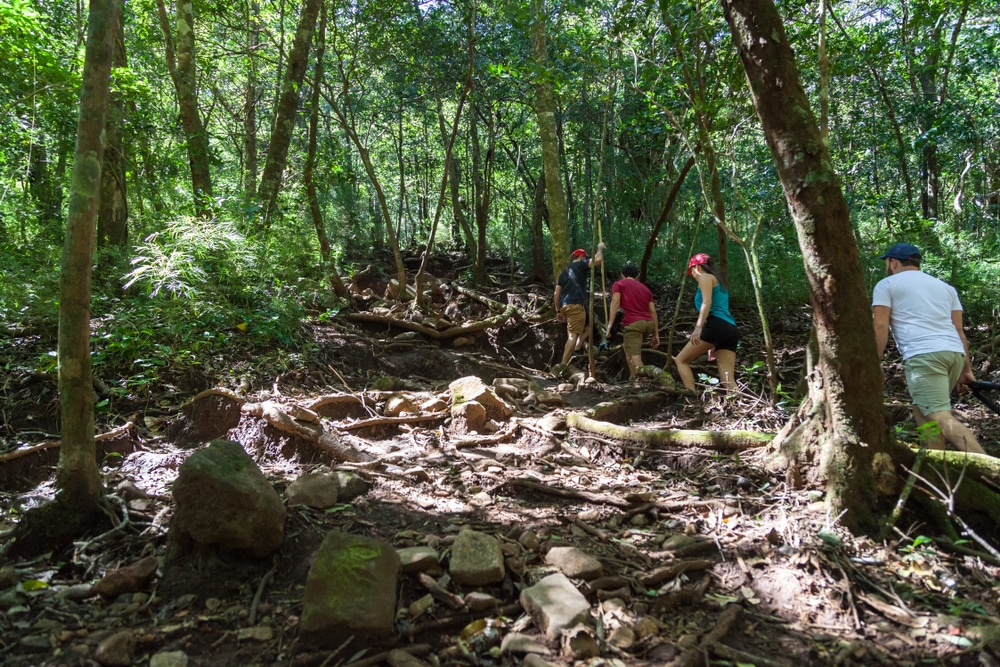 Rincon de la Vieja, made up of two volcanoes and over 30 streams, has plenty of hiking trails for walkers of all skill levels. This national park, particularly known for its geothermal activity, is divided into two sectors which are Las Pailas and Santa Maria.One of the most beautiful hikes will take you to the La Cangreja waterfall, a drop of almost 40 meters that is casts into a turquoise blue lake (Pailas sector). Perfect for cooling off before turning back! This trail gives you a glimpse of the country's diverse ecosystems, from tropical rainforest to arid savannah. Keep your eyes peeled, maybe you'll be lucky enough to spot monkeys, many colorful birds, iguanas or even armadillos.
Monteverde Cloud Forest Nature Reserve – Bosque Nuboso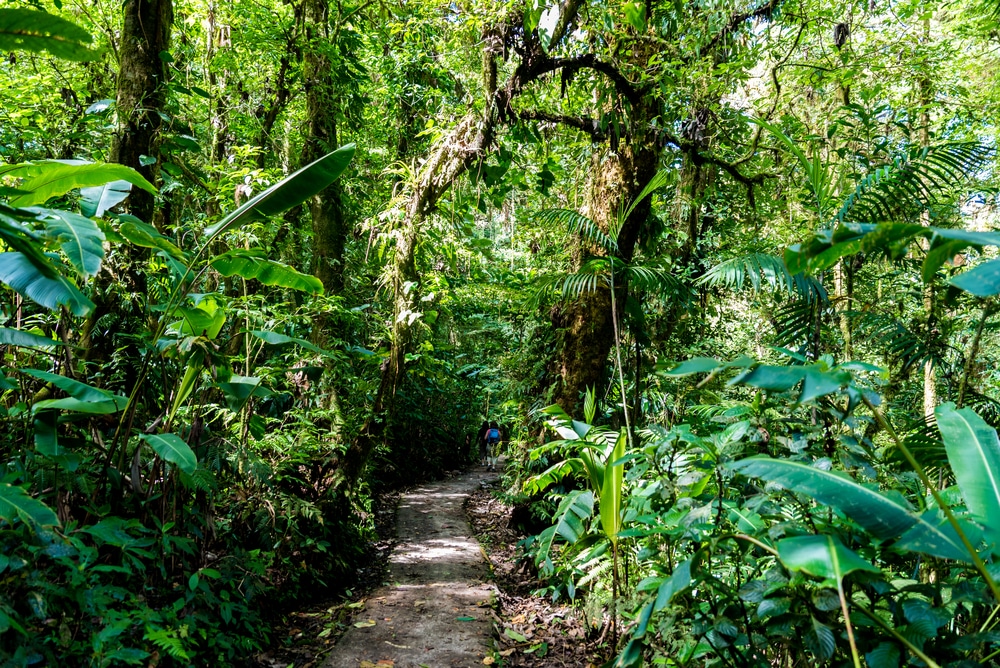 Monteverde Nature Reserve is one of the most valuable and famous cloud forests in Costa Rica, if not the world. It is home to a dozen trails, including the scenic Sendero Bosque Nuboso (Cloud Forest Trail), Sendero Camino, Sendero Bosque Eterno and Sendero Rio. marshes, pine forests and access to different viewpoints (La Ventana). It is possible to lengthen or shorten the route along the way by taking the Wilford Guindon Suspension Bridge or by branching off onto other trails. This is one of the hikes in Costa Rica suitable for bird watching, including the famous quetzal, but also howler and capuchin monkeys, sloths or agoutis!
The suspension bridges of Mistico Arenal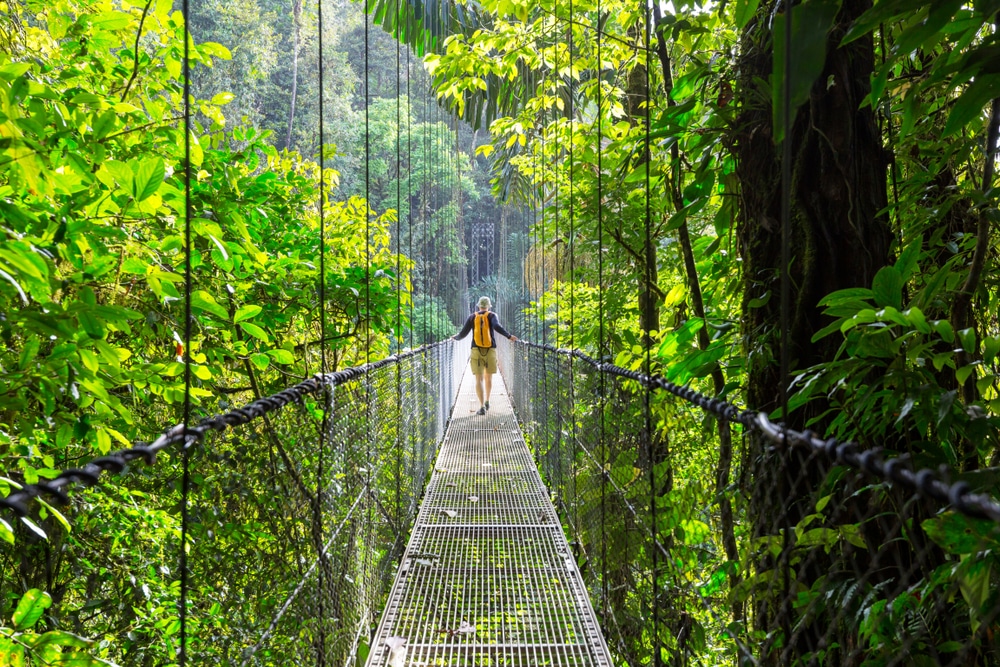 In Arenal National Park, one of the most active volcanoes in the world, we find kilometers of trails to be covered with or without a guide. If you are looking to hike in Costa Rica, the Arenal Suspension Bridges Trail is a must – this only 3 km loop will take you across 16 bridges, 6 of which are suspended above the canopy! Traveling with the family? This hike is accessible to all and allows you to observe nature from a completely different point of view. Monkeys, birds, sloths, butterflies and many other species coexist in this spectacular rainforest.
Climbing Cerro Chirripo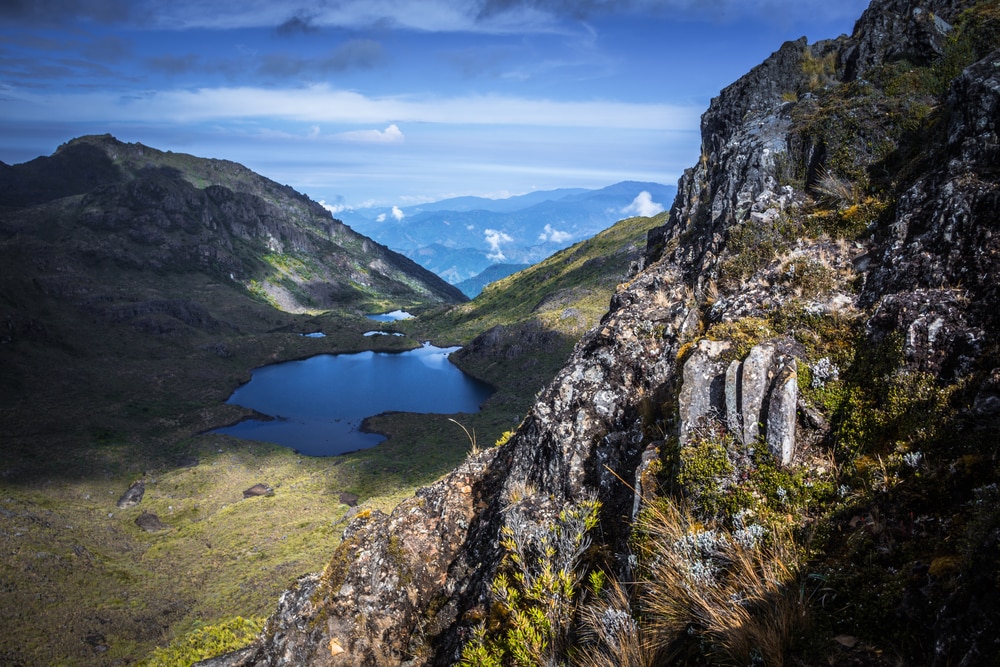 Culminating at 3820 meters, Cerro Chirripo is the highest peak in Costa Rica. Adventure lovers, this high altitude hike of about 2 days is made for you! The entrance to the park is in San Gerardo. It is recommended that you spend the night before your ascent at base camp, at the trailhead, and / or sleep at the park hut before heading back down. This hike, which has steep portions, requires excellent physical condition. After having passed the first kilometer, renamed the Thermometer, the landscapes of a cloud forest, then of the paramo (km 10) will pass before your eyes. The Crestones Hut is 14.5 km from the entrance to the park. After another five kilometers, you will be rewarded at the top with a breathtaking view of the surrounding countryside, before heading back down. On a clear day, you can even contemplate both the Caribbean Sea and the Pacific Ocean! Please note: the number of visitors admitted per day is limited, it is essential to reserve your permit 6 months in advance.
Corcovado National Park – From Leona to Sirena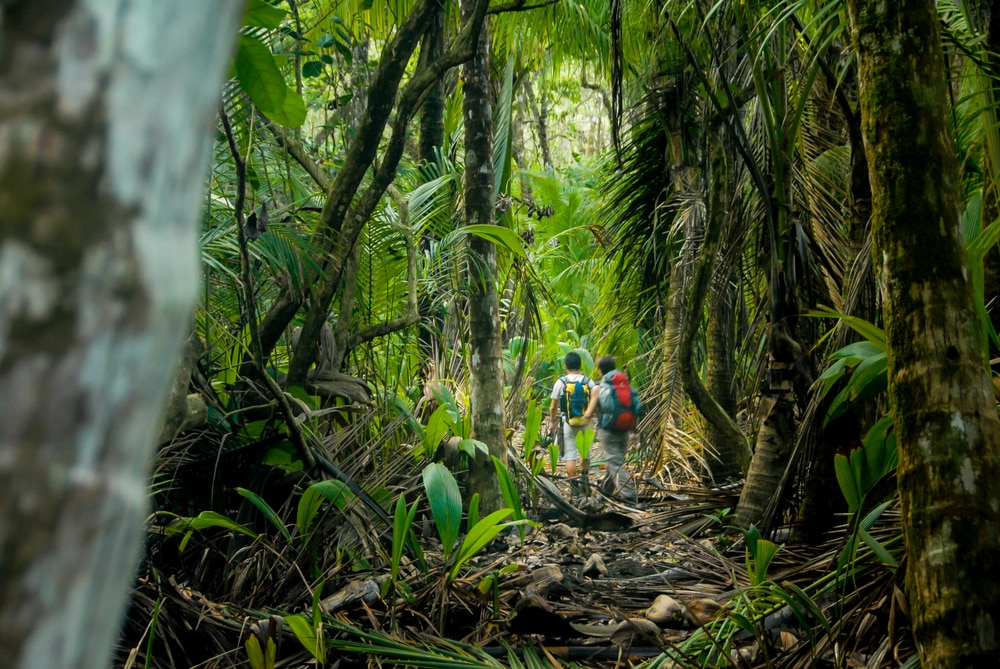 Are you wondering what are the beautiful hikes in Costa Rica that allow you to admire its exceptional fauna? Head to the wild and remote Corcovado National Park, on the Osa Peninsula. This park is considered one of the most biologically intense and diverse places on the planet. It contains more than 12 different ecosystems and its rainforest is home to jaguars! Leaving Carate, this hike connects the stations La Leona, the official entrance to the park, and La Sirena along the Pacific coast. It will appeal to the most adventurous among you! After reaching La Leona (3.5 km in the sand), you will alternate between forests and deserted beaches. A few kilometers from the base of La Sirena, you will have to cross the Rio Sirena, at low tide. The ideal is to spend the night there afterwards. Note: only visitors accompanied by a professional guide are allowed to access the park.
Tenorio Volcano National Park – Rio Celeste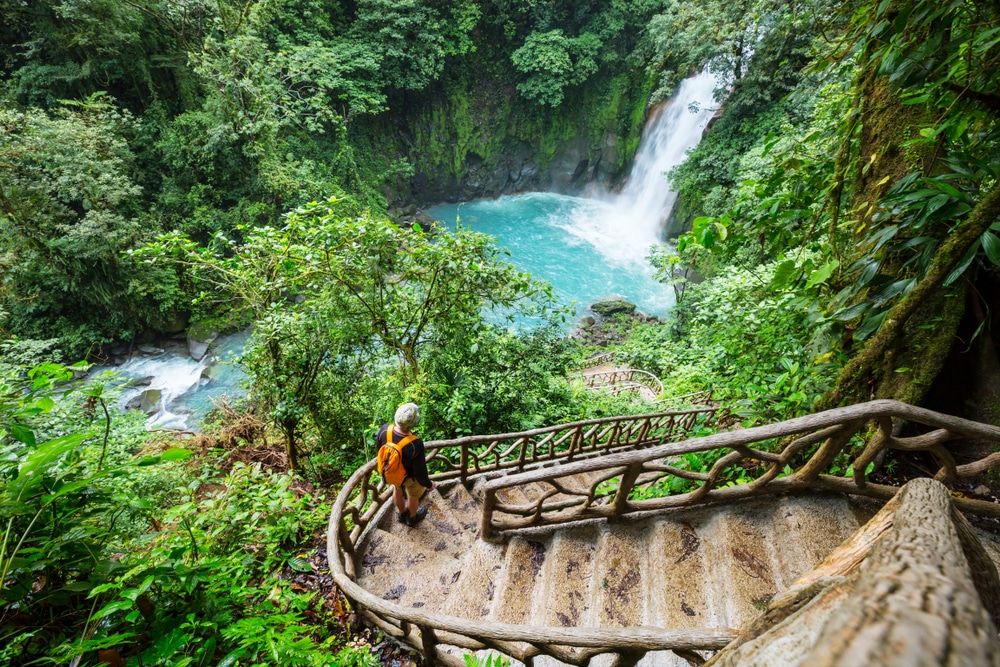 We now take you to Tenorio National Park and more specifically along the Rio Celeste. This moderate difficulty hike begins with a walk through the jungle on a well-maintained trail and stairs. They will take you to the stunning Rio Celeste waterfall and a lagoon. As you continue, you will reach natural hot springs, as well as two rivers that meet. Minerals from the Tenorio volcano have entered these rivers, giving the Rio Celeste this incredible and fascinating blue! Note: the trail closes at 2 p.m.
Manuel Antonio – Main Trail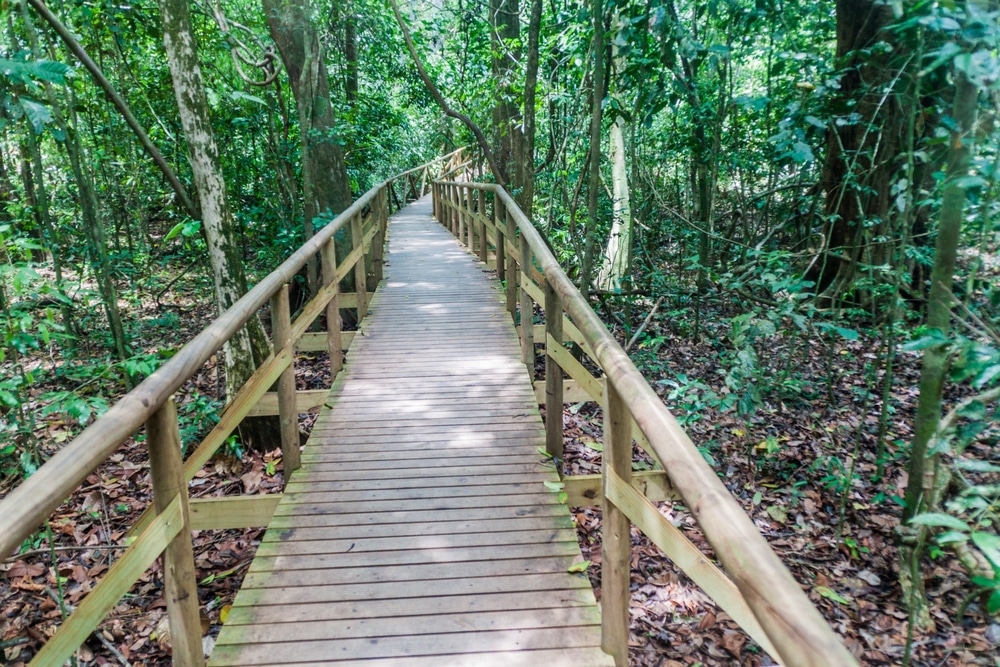 Although short, this is certainly one of the most popular and beautiful hikes in Costa Rica. And for good reason, the small Manuel Antonio National Park, located on the Pacific coast, consists of a dense tropical forest inhabited by many animals (monkeys, birds, sloths, raccoons …), rocky plains and very beautiful white sand beaches.This hike is pleasant, well marked and accessible to all. For those who would like to see more, it is possible to continue further by taking the 1.4 km Cathedral Point trail. At stake ? Breathtaking views!
Punta Cahuita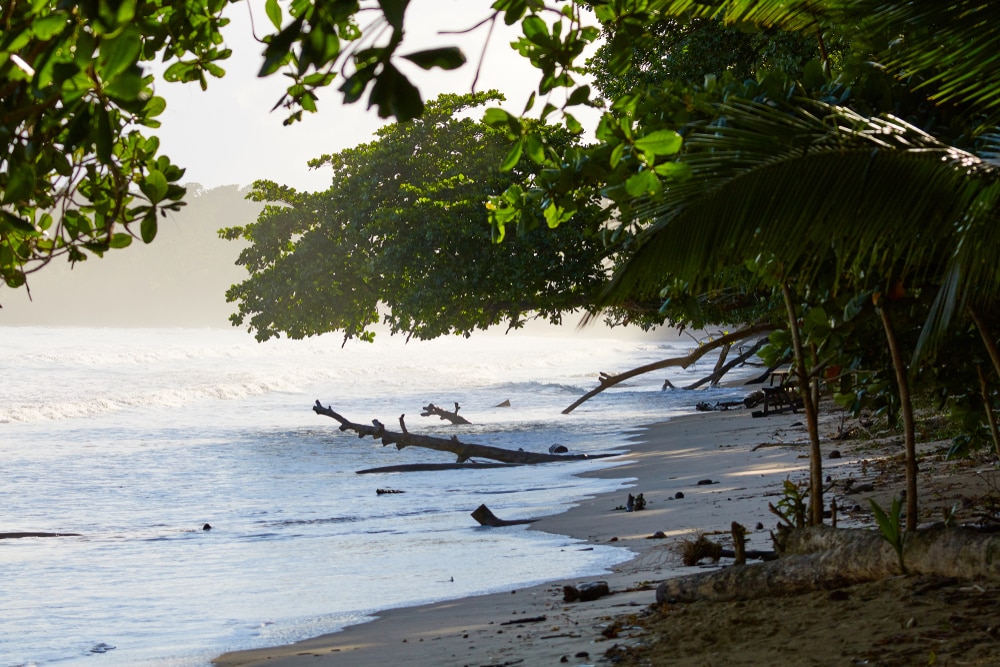 Costa Rica offers majestic and varied scenery to passing hikers, including paradisiacal beaches like Cahuita. This beach, in the south of the Caribbean coast, is the perfect mix between forest, sand and ocean. Ocean you will certainly enjoy cooling off in at the end of the hike! This trail is relatively easy to navigate although walking in the sand can be tiring. During this hike, you will come across some of Costa Rica's emblematic animals, such as sloths, toucans and monkeys. You can start by entering Puerto Vargas or entering the village of Cahuita, depending on the direction you choose. Good to know: entry to Cahuita Park is free, but a donation is highly appreciated.
Barva volcano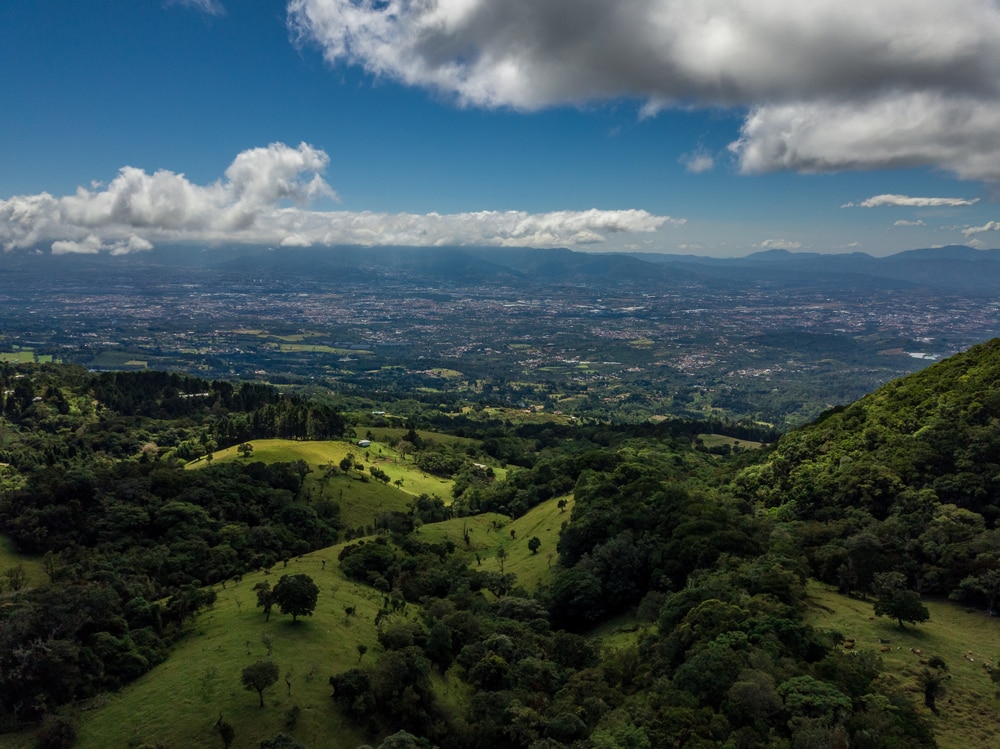 Let's finish our tour of the most beautiful hikes in Costa Rica with a destination that is still little frequented: the Barva volcano, in the Braulio Carillo national park aka the kingdom of birds. If you are looking to escape the crowds this more private hike should be for you! You will first follow the sometimes muddy Cacho de Venado trail. To continue, you will then have to take the Barva Lagoon trail, at the end of which the lake of the same name will be revealed to you. You will cross pastures and an impressive tropical forest. To finish this hike in style, you can admire the magnificent view from the Vara Blanca lookout as you descend. Good to know: this hike is best done during the dry season (January to April). Here is a summary of the many. hiking possibilities in Costa Rica.
Please note! Access to national parks and nature reserves is generally chargeable.